VIRTUAL CLASSROOM – Project Cost and Financial Management (26 & 27 Apr)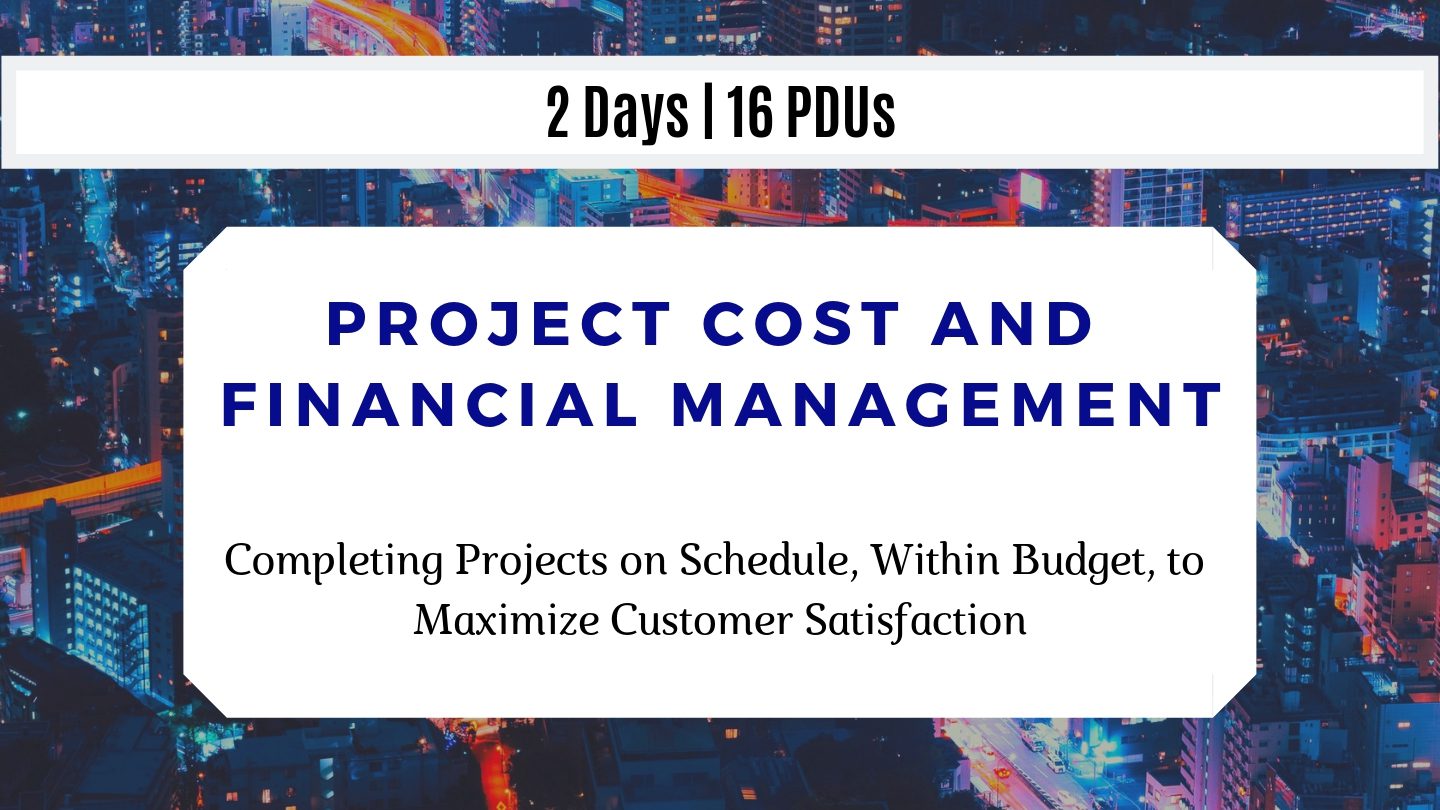 REGISTER NOW:
26 & 27 April 2021 (2 Days) | 16 PDUs
 Virtual Classroom | 9.00am to 6.00pm
Code PCFM
ABOUT THE PROGRAM
Project Cost and Financial Management is concerned with the process of performing pre-project financial assessment, planning, creating and controlling the cost of a project or business. It includes activities such as planning, estimating, budgeting, financing, funding, managing, and controlling costs so that the project can be completed within the approved budget. Cost management covers the full cycle of a project from the pre-project assessment, initial planning phase towards measuring the actual cost performance and project completion. This course will explain the cost definition, process of calculating the project cost and also Earn Value Analysis technique which is used to monitor the performance of the project cost in line with the method as according to PMBOK.
CREDITS
This course qualifies for 16 Contact Hours of formal project management education. At ePM Training Services we are fully committed to delivering outstanding practical, memorable learning experiences for all participants, enabling you to attain your individual and company goals, increase productivity and, of course, have fun in the process.
WHO SHOULD PARTICIPATE
This course is perfect for project directors, project managers, assistance project manager, project team members, technical team members, financial executive, business analyst and anyone who is directly involved with projects in almost every industry who wishes to achieve a better understanding of practical, formal project management methods.
LEARNING OBJECTIVES
At the end of this action-based workshop, participants will be able to:
Identify the correct method of financial assessment for a project and understand the formula, method of calculation and analysis of results.
Identify types of cost, definition and financial terminologies used in a project.
Create a total project scope in a form of Work Breakdown Structure (WBS) and project schedule by using Critical Path method.
Create a short and long term project costing and financial requirements.
Perform project cost monitoring by using Earn Value Management (EMV) techniques and S-Curve analysis
Perform analysis and post project assessment in terms of profit and loss (PNL)
PROGRAM OUTLINE
Introduction

Course Structure and Objectives

Project Assessment and Selection Method

Benefit Cost Ratio
Payback Period
Present Value
Net Present Value (NPV)
Internal Rate of Return (IRR)
Weighted Scoring Model
Return on Investment (ROI)
Cost Definition

Opportunity Cost
Opportunity Loss
Direct Cost
Indirect Cost
Variable Cost
Fixed Cost
Sunk Cost
Capital Expenditure (CAPEX)
Operational Expenditure (OPEX)
Cost Monitoring

Earn Value Management (EVM)
Planned Value (PV)
Earn Value (EV)
Actual Cost (AC)
S-Curve Analysis
Cost Performance Index (CPI)
Schedule Performance Index (SPI)
Cost Performance Index (SPI)
Cost Variance (CV)
Schedule Variance (SV)
Project Cost Calculation

Project Scope vs. Product Scope
Scope Definition
Creating a WBS
WBS and Account Code
Estimate Resource
Estimate Duration
Develop Project Schedule
Critical Path
Definitive Estimate
Project Cost Calculation and Cost Baseline
Management Reserve & Contingency Reserve
FUNDING SUPPORT
MALAYSIA – THE SBL-KHAS SCHEME The SBL Scheme is provided for training courses in Malaysia.  HRDF – SBL Scheme supports up to 100% of the course and exam fees, capped at RM700/Pax/Day for Company – Sponsored trainees.  Please visit www.hrdf.com.my for full details.